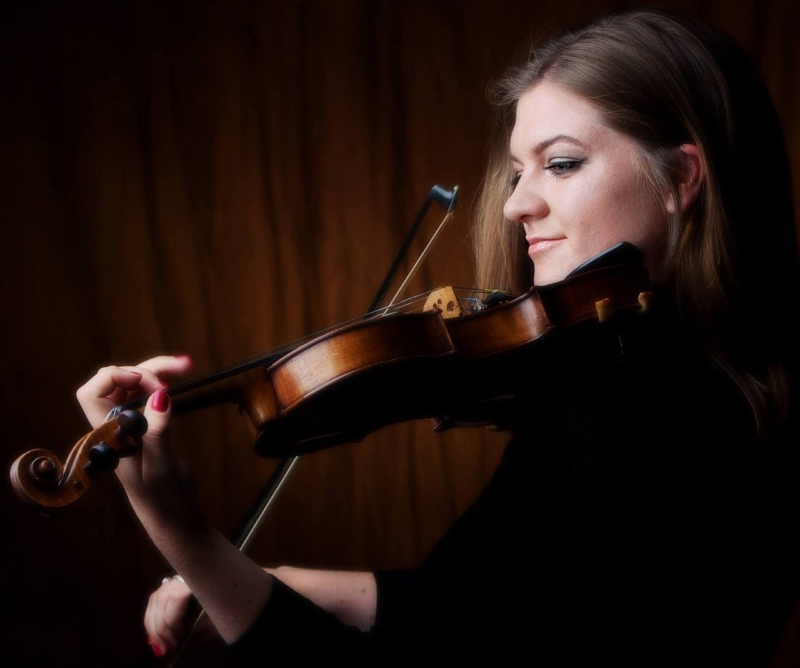 ---
Contact
Email: This email address is being protected from spambots. You need JavaScript enabled to view it.
---
Róisín Donohoe is a harpist, fiddler and singer from Kinsale, County Cork, Ireland.
Born into a musical family, Róisín began learning the fiddle at the age of three. As her passion for music continued to grow, so too did her interest to master a broader range of instruments - she is now an accomplished musician on the violin, harp, concertina, viola and voice. Her first solo TV performance was at the age of ten where she sang self-accompanied on harp in a talent show on TG4, called "Glas Vegas". Since then she has performed numerous times on TV alongside her brother Darren (also an accomplished fiddler), with fellow musicians of the group Lasair, as well as with the Vienna Youth Orchestra (Austrian TV). Róisín has also been interviewed and performed on radio multiple times during her career.
Róisín studied classical violin and viola in the Cork School of Music under Ruxandra Petcu, Adrian Petcu and Constantin Zanidache and was awarded her ATCL and LTCL with distinction from Trinity College London. Róisín is the lead vocalist and violist in the Irish Memory Orchestra (IMO). She was selected as the main singer for their debut of Mná Brian Ború at the age of 17 ; she also played fiddle and viola during the various performances of Mná Brian Ború in Ireland and South Korea.
Róisín has been a member of many orchestras including the County Cork Junior where she was the leader, the County Cork Youth Orchestra, the Cork School of Music Symphonic Orchestra, the National Youth Orchestra of Ireland, the Vienna Youth Orchestra and most recently the IMO. As a member of Lasair, an Irish traditional group, she also performed in the National Concert Hall. She has won multiple All Ireland Medals in various disciplines at all age levels.
After having lived in Grenoble, France for a year as part of her Commerce and French studies, Róisín now lives in Montréal, Canada where she is broadening her French speaking skills and utilising the knowledge gained during her degree.